Barkers Dog Grooming Auckland
Affordable Stress Free Dog Grooming West Auckland (Henderson)
| | |
| --- | --- |
| Posted on 13 August, 2017 at 18:55 | |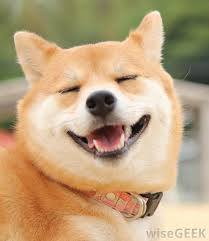 Dogs do laugh. Dog behaviourists have observed a short, hard panting sound that dogs make when they greet people and other dogs and initiate play.
It sounds like "heh-heh-heh". I have noticed this with my own dog as we are playing with a toy. In fact, she laughs her ass off.
They typically make this sound with a wide, open grin.Your dog may laugh as they play bow to invite play or when being cuddled or tickled.
In a study researchers recorded this sound and played it back to dogs in a animal shelter full of highly stressed dogs. The dogs in the shelter showed reduced levels of stress and many even bounced around and starting laughing themselves.
Categories: None
/