Barkers Dog Grooming Auckland
Affordable Stress Free Dog Grooming West Auckland (Henderson)
| | |
| --- | --- |
| Posted on 6 February, 2018 at 18:05 | |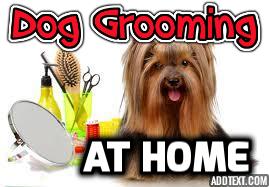 Taken from https://barkhow.com/diy-dog-grooming/" target="_blank">Barkhow.com
Dog owners often confuse the process of clipping with dog grooming but dog haircuts are  just one part of dog grooming which can include bathing, brushing, cleaning ears and clipping nails, parasite control and dental care. Grooming is not just about appearance  but is crucial to health and hygiene. You can pay a professional dog groomer to do the work or you can do some or all yourself. 
The advantages of paying a dog groomer are that it saves you having to do the work and clean up the mess but can be expensive and going to a dog groomer can be a stressful experience for your dog. It can also be difficult to find a dog groomer your dog and yourself are comfortable with.
The advatages of doing some or all the dog grooming tasks yourself are it will save you money, strengthen your dog's bond with you and you can notice any changes or health concerns.It will require some investment in grooming equipment, shampoos, etc.Some dogs may play up more for their owner yet be more co-operative for an experienced dog groomer.
Here are some of the dog grooming taks you can undertake yourself if you chose to do some or all of your dog''s grooming requirements.
Brushing
Even if you do use the services of a dog groomer you do need to brush your dog between appointments to prevent matting and tangles which can be uncomfortable for your dog and cause problems like skin infections and sores to form. The key here is regularly. It is better to brush him or her every day or every few days depending on the breed and coat type than to do a big session once in awhile. Over brushing your dog can cause brush burn to their skin and damage the coat if down in one big session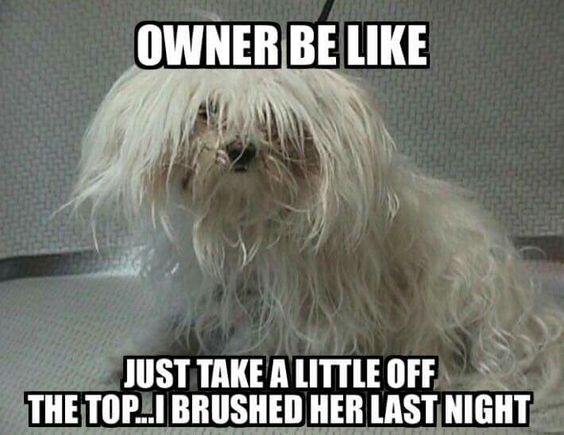 Other benefits of regular brushng include:
Removes excess fur and significantly reduces the amount of fur you have to deal with on your furniture, car or clothing. Who wants to do more house work than necessary?
Brushing removes dirt and any items such as leaves and twigs caught up in their coat keeping them cleaner and smelling nicer longer between bathing.
It helps distribute the natural oils in your dog's skin and coat keeping there coat healthy, shiny and looking it's best.
It is a great way to monitor your dog's health as you may discover any lumps and warts, fleas and ticks, cuts, grass seeds, skin irritations and anything that looks unusual.
Removes tangles and matts which can be uncomforatble for your dog and may cause broken blood vessels, skin infections and may cause sores to form.
Brushing aerates and hydrates your dog's skin and fur and stimulates circulation which enables to coat to perform it's natural function of regulating body temperature.
Promotes bonding between you and your dog and builds trust as they get use to be touched in various places and being handled without feeling anxious about it.
If you want to keep your dog's coat longer it avoids disapointment when being told by the groomer that it needs to be clipped off as it has become too matted.
Saves money on dog grooming as the groom will last longer and avoids being charged more for any extra work the groomer may need to do on a dog that has not been maintained.
Bathing
Bath time may not be fun for your dog, but it's extremely important to keep your pooch clean! How often your dog needs to take the plunge depends on the hair/fur type, lifestyle, and shampoo. As a dog groomer I recommend bathing every 3-4 weeks. Make sure you use a special dog-approved shampoo. Human shampoo has a different pH level and can dry your dog's skin and coat and lead to skin issues particularly if they have sensitive skin. I would recommend using a gentle or soap free shampoo as it doesn't matter how often you bath your dog.
Another hack I use is to use tearless baby shampoo to wash the face as it is not so important to prevent shampoo going in the eyes and allows you to give the head and face a really good clean. This area can often be the most smelly part of your dog.
It is also important to brush your dog before bathing as once knots and tangles become wet they tighten and become worse.
Ear cleaning
You can give your dog's ears a regular wipe around the visible area to prevent ear infections and smell. If you want to put ear drops in your dog's ears I would recommend checking with your vet as you can't see what is going on inside and if there is an infection or damage to the ear drum you may make things worse.
Nail clipping and filing
Unless your dog is regularly walking on concrete there nails will need regular triming. Filing your dog's nails will remove the sharp edge preventing them scratching you. If you hear your dog's nails tapping on the floor when he/she walks then it's definitely time to grab the clippers and trim those nails. When a dog's nails tap on hard surfaces, it pushes their nails back up into their nail beds, which can be extremely painful. Not only can it put pressure on the toe joints, it could also force the toe to twist to the side, resulting in soreness or even arthritis. Most dogs can go about a month in between nail trims (this will vary depending on your dog's lifestyle).
Teeth Cleaning
Brushing your dog's teeth should become part of your daily routine. Unfortunately, more than 70 percent of dogs and cats will suffer from periodontal disease (AKA gum disease) by the time they're just two years old. Unless you take action early on, your dog's teeth will just worsen with age. Dog toothpaste is available. Obviously never use human toothpaste as  your dog can't rinse it is toxic to your dog.
Chewing also helps with dental health so provide your dog with dental chew toys and treats.
Full Haircuts
You can give your dog a full haircut instead of using a dog grooming service but there will be  some investment required for equipment and abit of gaining the knowledge to do the job. Human clippers are not suitable for cutting dog fur as human hair is much finer and you will just be hacking at the coat causing discomfort for your dog and making a real mess of things. You will also need a good pair of dog grooming scissors.
You will need a steady non slip surface to groom your dog so and investment in a grooming table may be needed.
Conclusion
Doing some or all of your own dog's grooming is a great way to save money, strengthen your bond and to be aware of any health issues.
If you are keen to do some or all of your dog's grooming check out https://barkhow.com/diy-dog-grooming/" target="_blank">Barkhow.com for helpful information and tips.
Good luck with your dog's grooming and have fun.
Categories: None
/